1,3 Millionen Euros for Prof. Dr. Alessandro Del Vecchio's Research!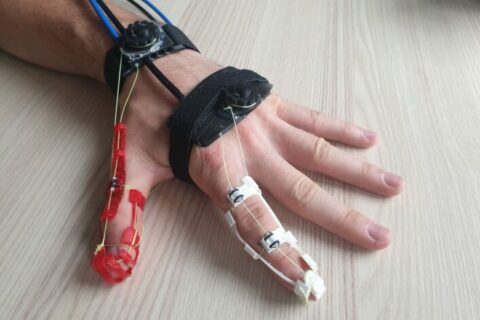 Good news for Prof. Dr. Alessandro Del Vecchio: two of his projects will receive a research grant of 1,3 million euros! NeurOne has been awarded 833,000 euros as part of the "Life Science – Medical Engineering" funding line and GraspAgain has won the "Medical Valley Award" worth 500,000 euros. The head of the Neuromuscular Physiology and Neural Interfacing Laboratory (N-squared Lab) at FAU has an assistant professorship at the Department of Artificial Intelligence in Biomedical Engineering (AIBE) and also teaches medical engineering students.
The two projects "NeurOne" and "GraspAgain" focus on restoring hand function with intelligent neuro-orthoses for people who suffer from neuromotor impairments to their hands caused by spinal cord injury or stroke – a condition which affects around 50 million people worldwide. "Medical technology has made huge progress during the last few years. For example, studies have shown that neuro-orthoses can move the hands of healthy people," says Prof. Dr. Alessandro Del Vecchio, head of the Neuromuscular Physiology and Neural Interfacing Laboratory (N-squared Lab) at FAU. "However, much research and development still needs to be done in terms of fine motor skills, for example to enable movement of individual fingers of paralyzed hands."
This is the starting point for the research team around Prof. Dr. Del Vecchio: In the NeurOne collaborative research project, they aim to develop a flexible and wearable neuro-bandage that measures the electric activity of the skin and can thus measure even the smallest of muscle movements. A system known as a brain-computer interface will use AI to decode the recorded neuronal signals and then deduce the patients' intended movements.
The GraspAgain project wants to develop a neuro-orthosis that will restore hand function to such an extent as to enable patients to carry out more than 90 percent of everyday tasks independently. "Our aim is to move the fingers and the thumb of the hand independently of each other and with high levels of strength," explains Dominik Braun, research assistant at the N-squared Lab. The researchers hope to achieve this by using a system of pull cords that are attached to a soft and extremely light finger cot. The electronic control system, actuators and power supply will be integrated as a compact unit in a wheeled walker, wheelchair or backpack so that users remain mobile. "The neuro-orthosis is combined with our brain-machine interface, which determines patients' intended movements in four degrees of freedom," says Alessandro Del Vecchio. "This results in an effective aid with a high level of comfort for wearers, which helps patients become more independent, significantly increases their quality of life and eases the burden placed on nursing insurance funds."
Both projects will commence on October 1, 2023 and will be financed by the Bavarian State Ministry of Economic Affairs, Regional Development and Energy. This funding is further proof of FAU's special expertise as a location for innovation and a hub for artificial intelligence in medicine. Master students of medical engineering at FAU can take the courses "Movement neuroscience: connections between the brain and muscles in humans" and "Interfacing the Neuromuscular system: Applications for Human/Machine Interfaces and Neurophysiology" with Prof. Dr. Alessandro Del Vecchio.
For more information, click here.