Frequently Asked Questions (FAQs)
Frequently Asked Questions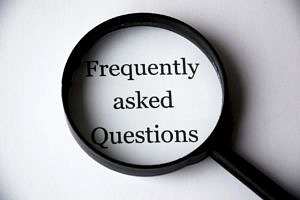 Here you can find the answers to the most common questions students have before taking up their studies with us, whether they are related to studying in Erlangen or to the Friedrich-Alexander-University Erlangen-Nuremberg.
If the answer to your question is missing, feel free to contact your study advisor. We are happy to help you out!

About FAU
Do I have to pay tuition fees?
There are no tuition fees at German public universities. You only have to pay an administrative fee of currently (2021) 127 Euros per semester (i.e. twice a year), which also includes a student ticket for public transport.
Do I have to register for seminars before the semester starts?
No. In the first lecture after the start of the semester, you will be informed when, where and how you can register for a particular seminar or practice classes in the respective subject. You will also find out what options you have and to what extent your preferred dates can be taken into account. In any case, however, you have no formal claim to a specific date, especially because a certain maximum size (20-30 participants, depending on room capacity) simply cannot be exceeded and for some dates there are particularly many requests. In any case, however, there will be enough places available.
Does FAU provide scholarships?
No, FAU does not dispose of a scholarship system. But you can apply for scholarships at other institutions, such as the German Academic Exchange service (DAAD). To learn more about scholarship options, click here.
I have some trouble with the online application portal Campo
For more detailed information about the applying process, please click here.
Is there a tutoring service for international students?
The study advisors will be happy to help you with any question you might have concerning the study program. At the beginning of each term, a welcome meeting is held in order to provide you with general tips and information about your studies.
Moreover, FAU offers a "buddy program", in which international students are assisted by an experienced German volunteer from their faculty. Your personal "buddy" can help you with everyday problems, show you the city etc. and hopefully will become a good friend! You can apply for this program here.
Our student body representatives, who participate in various committees of the university and help shaping the study conditions at FAU, also have a working group for international students. If you would like to become a member of this group or are just looking for support, please contact them here.
When does the lecture period start?
The lecture period for the winter term starts in the middle of October, the lecture period for the summer term in the middle of April. The exact dates vary from term to term, you can find these and many other important semester dates on the Student Records Office´s website .
Where can I find more information regarding examination and registration dates?
Regarding Medical Engineering
Am I eligible for the branches of study Medical Image Processing, HMDA or Medical Robotics?
The same admission requirements apply to all three branches of study:
Academic requirement: subject-related qualification (computer science and engineering) for university entrance at Master's level (e.g. bachelor's degree).
We expect our students to possess excellent programming skills, profound knowledge in Electrical Engineering and a strong theoretical Mathematics background. Our entrance qualification board individually evaluates each application with all taken courses in a bachelor's program. This means that having studied Medical Engineering does not automatically make you suitable for entering our Master's program, as the content of each Bachelor's program varies enormously. On the other hand, you do not necessarily need a degree in Medical Engineering to join the program. Please understand that we cannot predict your chances to get accepted before you apply.
English language requirements can be viewed on our info page concerning prospective Master students. A degree in an English-taught Bachelor's program is not sufficient to prove your language skills.
Can I study the bachelor's program in English?
No. The bachelor's program is offered in German only. German language requirements are DSH 2 or TestDaF 4 – but please be aware that academic vocabulary is more difficult to understand than daily life German.
Can I study the Master's program Medical Engineering at FAU fully in English?
Yes, but only the specializations "Medical Image and Data Processing" and "Health and Medical Data Analytics" are taught in English, which strongly focus on programming, pattern recognition, algorithms and data structures. Please be aware that a student with English and German skills has a bigger variety of lectures to choose from, as some optional courses are in German. We also highly recommend that you take at least a basic German course before you start your studies at FAU. It will make dealing with administrative matters a lot easier.
Our other two branches of study, "Medical Devices and Prosthetics" and "Medical Electronics", are taught in German only and require very advanced German skills (DSH 2 or TestDaF 4, but also keep in mind that academic vocabulary is more difficult to understand than daily life German).
If you only fulfill the English requirements, please make sure that you choose one of the English branches when you apply for the Master's program, otherwise we will have to reject your application.
My admission states "conditional subjects". What does that mean?
You may have been accepted to the Master's program under the condition that you pass one or more conditional subjects within the first year (i.e. from the 1st of October to the 30th of September or from the 1st of April to the 30th of March). This means you have to take certain classes in addition to your regular Master's workload of 120 ECTS credits, usually "Engineering Mathematics" and/or "Advanced C++ Programming". You can find them in our information system UnivIS if you search the lecture list for the course title. The conditional subjects will usually not appear in your Master's certificate, only in your Transcript of Records. You have the option, however, to have them counted for the module group "Free Choice Uni(versity)" if you wish to. As soon as you pass the exams for your conditional subjects, you have to communicate this to our examinations office (Mrs. Jahreis: helga.jahreis@fau.de). If you don't pass the conditional subjects within one year, you cannot continue your studies!
"Algorithms, programming, and data representation" is offered in the winter semester (WS), but you can also take the exam in the summer semester. "Algorithms, programming, and data representation" consists of a lecture, which ends with an exam, and an exercise part, which you can participate in to practice you programming skills. In order to fulfil your condition, you only need to pass the exam for the lecture, but taking part in the exercises ón a voluntary basis is highly recommended, as it will improve your chances of passing the exam.
"Engineering Mathematics" is only offered in the summer semester (SS) but you can get access to the lecturer's slides, study on your own and take the exam in winter, too.
"Fundamentals of Electrical Engineering" is offered in the summer semester (SS), but you can get access to the lecturer's slides, study on your own and take the exam in winter, too.
"Dynamical Systems and Control" is offered in the summer semester (SS), but you can get access to the lecturer's slides, study on your own and take the exam in winter, too.
If your admission letter does not state any conditional subjects, this means that the above information does not apply to you. You can simply follow the regular Master's course and don't have a one-year-deadline for any of your subjects.
When you have passed your conditional subjects and are happy with your grade you can use them for module M8 (Free Choice Uni, according to Study Regulation/FPO 2018 and 2019). Just send Mrs. Jahreis of our Examinations Office an email and ask her to move the course to M8. Please note that your conditional subjects can only be used for M8 but not for any other module group of your Master's course.
What are the job opportunities after I finish my master's degree in Medical Engineering?
Studying Medical Engineering at FAU is closely linked to strong research and industrial partners, such as Siemens, adidas, Fraunhofer Society and many others. This gives our students the chance to make useful contacts early on (e.g. during their Master's project) and increases their job prospects. For an overview of companies involved in the 'Medical Valley' of Erlangen-Nürnberg, click here.
What is the standard period of study in my degree program?
Master
The standard period of study in the Master's program is 4 semesters. You will automatically get the permission to do a 5th semester if you re-register on time. After that, extensions for a 6th or 7th semester are possible, but you have to file a petition then and give justified reasons for it.
If you want to know more about deadline extensions or extending the standard period of study, click here.
Where do the Medical Engineering classes take place?
The degree programme Medical Engineering is highly interdisciplinary, meaning that you will not only take classes at various departments at the School of Engineering (Computer Science, Electrical Engineering, Mechanical Engineering, Material Sciences and Chemical Engineering and Bioengineering), but also at the Schools of Science and Medicine. Therefore you will conduct your studies on the South Campus, as well as at the Medical Faculties (city center).
You can reach every location within 15 minutes by bike or bus (we do not recommend taking your car, as there is a constant lack of parking spaces), but you cannot find an apartment that is directly next to your sole lecture building. The majority of your lectures will take place on the South Campus, the city center however has advantages for student living and due to its closeness to the clinics which are important for your Medical Engineering studies.
Which kind of mathematical knowledge is required for Medical Engineering?
Medical Engineering requires the same applied mathematics knowledge as all other classical engineering courses in electrical or mechanical engineering, but also computer science. If you did not enjoy mathematics at school, you will soon reach your limits in this degree program. Since the subject matter relatively soon goes beyond both basic and advanced course level, an advanced course is not a basic requirement. However, you should attend the mathematics revision course (https://www.tf.fau.eu/studying/prospective-students/starting-your-degree-programme/) in any case, in which you will all be trimmed to the same required level. Please keep the period of early to mid-October free for this. You can register now, even if you do not yet know your matriculation number, as it is not yet required then. If you register for the course after your matriculation, you should of course state your matriculation number.